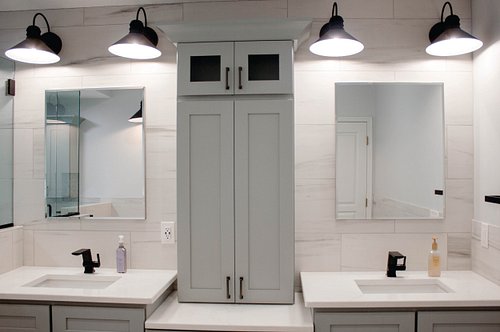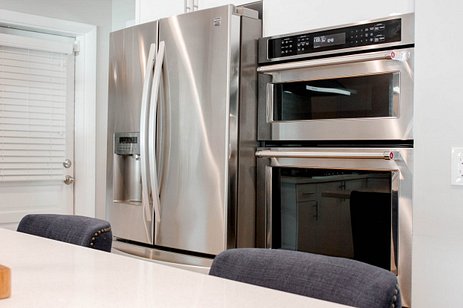 Beadboard is one of the most popular ways to add texture and dimension to your design for a bathroom remodeling project. This style is particularly popular in coastal homes that want a beach house vibe which means Tampa homeowners love beadboard!
Many people refer to beadboard as wainscoting; however, there are a few differences between the two. Wainscoting if made of large inset panels whereas beadboard features wood plants that are small and vertically lined. Beadboard is traditionally used on the lower half of the wall to create a distinct line between the lower and top halves of the walls; however, there are a few other ways to use beadboard creatively during bathroom remodeling.
Penny Tile- Paring beadboard with penny tile creates a classic aesthetic that never goes out of style. Penny tile is a black and white mosaic tiles that are only 1 inch across. These tiles can be used to created larger blocks that are used to tile your bathroom floors.
Classic Marble- Beadboard can be used to create a French countryside aesthetic when paired with upscale fixtures such as marble countertops and flooring. Baby blue or light grey paint or wallpaper on the wall above the baseboard can be used to accent the natural hues of marble tiles.
Painted Beadboard- While beadboard is traditionally white, this material can be painted to complement any color palette you have in mind for your bathroom remodeling project. If you have wanted to explore dark colors in your bathroom, beadboard that goes half up the wall is a fantastic way to introduce darker shades into the design without overwhelming the space.
Beadboard on the Ceiling- Beadboard is not just for the walls! Many homeowners are now installing beadboard on their ceilings to create texture, dimension, and a unique design for bathroom remodeling.
Beadboard is simple yet versatile and can be appropriate for any bathroom design. The material can be installed vertically or horizontally, on the walls or ceiling, all the way up or only halfway up the wall. Using beadboard is the perfect way to restyle your bathroom and create a fresh look.
There are many older homes that Tampa kitchen remodeling experts get called in to redesign because the challenges that come with these homes are often much more than the average DIY homeowner knows how to remedy. If you are thinking about diving into a big kitchen remodeling project and your home is more than sixty years old, there are some common challenges you should be prepared to run into.
Not Enough Lighting- Older homes tend to have less lighting than modern homes, especially in the kitchen. When working with your designer on the floor plan for your kitchen remodeling project, make sure to add in lighting options, consider a sky light, track lighting and modern fixtures. This is also a good time to consider where your electrical outlets should be!
No Counter Space- Kitchens in older homes tend to have minimal counter space and an illogical layout. The space between islands and counters might not be ADA compliant and doorways and hallways are also usually tight to navigate. Opening space could be a consideration for your Kitchen Remodeling in order to create more area for counters, a kitchen islands and full-size appliances. Some homeowners will reconfigure their pantry space, bump out closets, or remove the wall between the kitchen and dining room to create an eat-in kitchen that has all the space you need!
Asbestos Tile- Homes built between 1920 and 1980 are notorious for having asbestos tile beneath the hardwood floors or vinyl in the kitchen and throughout. These tiles are very durable but can also be dangerous as they break or begin to crumble. Most contractors will install new flooring on top of asbestos tile rather than removing it for safety reasons, but you will need to disclose the asbestos if you choose to sell your home in the future.
The remedies of these common old house kitchen remodeling are often complex and require permits, licensing, and professional work that can be guaranteed. Before trying to dive into one of these projects yourself, contact a contractor for an estimate and consultation.